Las Vegas Tree Removal Pros
We have been in the business of tree removal for over 20 years now. During this time we have provided our customers across Las Vegas, Nevada with best services and tree care advice.
Trees make our living space beautiful and healthier; their value increases even more because of the time it takes for a seed to grow into a tree. In Nevada, trees are even more valuable mainly due to the area's not-so-friendly environment for tree growth. Trees here do not get all the natural growth boosters and that is why they need our help and maintenance for living a healthy and long life. This is exactly why tree removal in Las Vegas is not a matter of small concern; the entire process needs skills, experience and proper knowledge. That is why you should always hire a professional service for this complicated task.
"My parents' yard is full of tree some of which are older than me; about three years ago when I visited them the trees were not looking healthy at all. My parents were too old to look after them so I hired Las Vegas Tree Removal Pros for their tree care services. Now the trees look greener and healthier. These guys are professionals and know what they are doing. I trust them completely! "
– Jane Ferguson
When does tree removal become important?
Despite their many benefits, at times, trees need to be removed and the reasons could be manifold;
There could be a need to make some space for construction, such as for building a new porch, deck or patio.
You may want to have them removed for reasons such as allergies and safety concerns
At times, branches and roots of a tree, which has not been well maintained, starts to grow in a way that could cause damage to your property.
The tree could be dead, decaying or injured beyond recovery.
Regardless of the reason, there are many technical aspects and other factors that must be carefully considered before carrying out the task.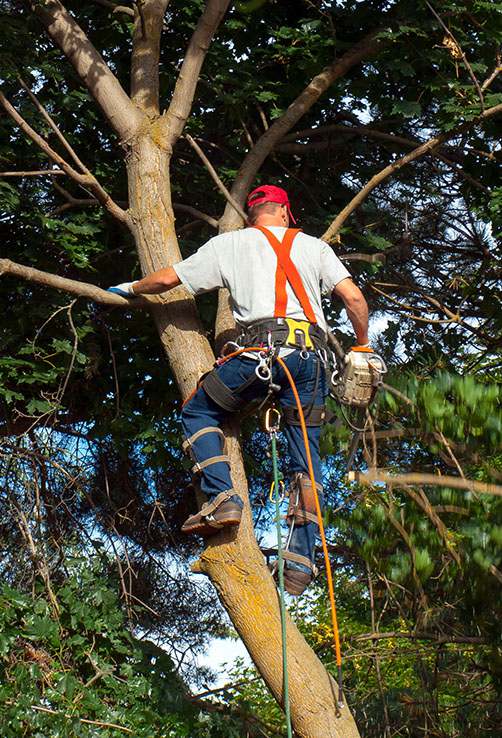 Why should you hire a professional tree removal service?
Removing a tree could prove to be a dangerous task for a number of reasons;
You may not have the necessary experience to handle tools used for tree removal.
Roots could be intertwined with your home's foundation.
Stump removal and tree felling could be dangerous and therefore require precision and careful execution to prevent any damage to people around you or your property.
Professionals know the difference between trees and branches that need to be removed and the ones that could be nursed back to health.
You may not be fully aware of the area regulations for tree removal, which could later cause legal complications.
Why are we the best tree service?
We are a fully certified company that brings you the best tree removal services. Our highly qualified, experienced and professional team of climbers and arborists not only helps you remove trees without any damage to your property, but can also provide you with guidance on tree care and maintenance. We use the most modern techniques and equipment to give you the best possible solution.
Las Vegas Tree Removal Pros believes in keeping the environment green so we carefully analyze the tree's health before its removal or trimming.
In case a tree has any possibility of recovery our arborists will tend to it and give you a complete treatment plan to save it.
Another very important aspect while hiring a professional tree removal service is insurance. Our company is fully insured, which means any damage to employees or equipment will be covered by our insurer. Why is this important? If you hired a company without insurance then it is quite possible you may have to pay for all types of damages that occur within the premises of your property. It could also lead to lawsuits and other legal complications.
"I am a principal at a local school, which has always been known for its green trees. I hired Las Vegas Tree Removal Pros to look after those trees. I am very happy with how their tree care providers have maintained our trees; they are always one call away and handle all types of emergency damages"
– Michael Clarke
Our company caters to all aspects of tree removal and maintenance.
We offer;
Trees that may pose safety hazards, block sunlight for other trees or are irrevocably injured are usually the ones that need to be removed.
Seen from a distance it may seem like a regular thing, but tree removal requires great precision, technical skills and knowledge of equipment. That is why due to safety concerns only a professional should handle the task.
Our team is fully qualified to remove trees, their branches or roots, simply put, any part that is causing the problem. With expertise to manage modern equipment, our highly skilled employees follow all security protocols to carry out the entire process.
Moreover we are experts at handling trees of all sizes and types. Our team is also highly skilled to deal with different types of topography without any difficulty.
To save you from any legal trouble, we follow all the necessary tree removal guidelines and regulations prevalent in Las Vegas, Nevada.
Stump removal usually follows tree removal and involves removal of leftover stump and roots. Stumps can be removed using a number of techniques, depending on the nature of the stump.
Stump removal is important because it is the part, which after the tree has been removed, starts to decay. These decaying stumps can attract insects, which could eventually damage the surrounding healthy trees and plants.
We use a number of techniques for stump removal. After analyzing the situation stump may be removed using either grinding, stump rotting or burning or by digging the stump out. Remember all techniques could be dangerous and cause damage if not handled by a professional.
Our company has all the necessary modern equipment and machinery needed for stump removal.
Like any other living thing trees and plants can also get sick, injured or damaged. They then have to be looked after and treated by tree surgeons known as arborists.
Remember tree surgeons need proper certification to carry out the job; just having a detailed knowledge about the trees is not enough. Arborists need to understand different symptoms to make a proper diagnosis and recommend treatment plans. Therefore any company that offers advice, related to tree health, based on just experience could potentially cause more damage to your trees.
Our company provides complete arborist services for those who are concerned about the health of their trees. Our tree surgeons are fully qualified and certified for the job. These services are especially important for those who do not want to remove their trees.
Palm trees make your property look exotic and beautiful that is why their removal is never an easy option. Even though they are a summer plant, but they still need maintenance during the season. When a palm tree's health starts to deteriorate it does not mean that removal or cutting is the only option, there could be other ways to save your tree.
Each family of palm trees is different and therefore requires specialized treatment, care, trimming and maintenance. That is why only a professionally trained care taking service can do the job right.
We have palm tree experts on our team that after careful examination will find the best possible way to care for your tree and keep it standing tall.
Trees need maintenance, which includes trimming or pruning. If you want your trees to look fresh and stay healthy you need to constantly have them trimmed. However if done wrongly, you could damage or even lose your tree. Moreover, some trees are seasonal therefore they have to be trimmed during the right season for proper healthy growth.
A wildly growing tree with injured and diseased branches can not only damage your property and hurt people in your neighborhood, but also attracts insects and other creatures that cause the onset of tree decaying process.
Proper trimming is also important from an aesthetic point of view. In order to make the tree look beautiful it is very important to know which branches need to be cut. This all will become extremely easy by hiring our dedicated tree trimming service like ours. We help you keep your trees healthy and aesthetically appealing.
Transplanting a tree is not an easy task; not only is it hard for the person doing it, but it could prove to be quite stressful for the tree itself. The entire process of digging a root ball and planting it somewhere else requires precise techniques. Moreover transplanted trees require extra care and maintenance. This is certainly not a do-it-yourself job.
Just like tree trimming, tree transplanting also needs to be done when the time is right. In short, there is a lot that goes into transplanting even a single tree.
Our company has all the necessary skills and knowledge to successfully transplant a tree without causing any permanent damage. We understand that a tree could have both sentimental and monetary value; therefore, our team consists of only the best for this job. They analyze the tree, season and location before uprooting it from its current location.
Planting a tree in your area is just the first step; the tree needs proper maintenance throughout its growth cycle. A well maintained tree has both aesthetic and health benefits. We all know Nevada's climate and environment is not too tree-friendly and can cause damage to your trees, which means tree maintenance, in this area, has to be an on-going task.
This could be prove to be a very time consuming job, which can become quite a difficult one without professional help.
Our professional maintenance team helps you plan the best maintenance program for your trees. We will take care of all the primary maintenance needs and then educate you about all the do-it-yourself small tasks such as mulching, watering and menial trimming.
Tree Removal Cost and Budgeting
The cost and budgeting to hire our service depends on the number and size of trees that need attention. In addition to this, the cost can vary according to the nature of your problem. Moreover, cost of each of our above mentioned services may also vary. It is highly recommended that you discuss the budget prior to officially hiring our services.
We give our clients an estimated budget only after a complete analysis of the situation. We assure you our company offers the most competitive market rates to the residents of Las Vegas.
We truly are a one-stop solution for all your tree removal concerns in both residential and commercial areas. We strive to keep our clients happy and their environment green and healthy that is why our emergency services are available 24/7. You can talk to any of our customer service representatives who will listen to your problem and help contact the right service.
For your satisfaction you can request;
A copy of our certifications and license.
Insurance certificate.
Complete list of references.
Information on our techniques and equipment.
Meeting with our professionals.