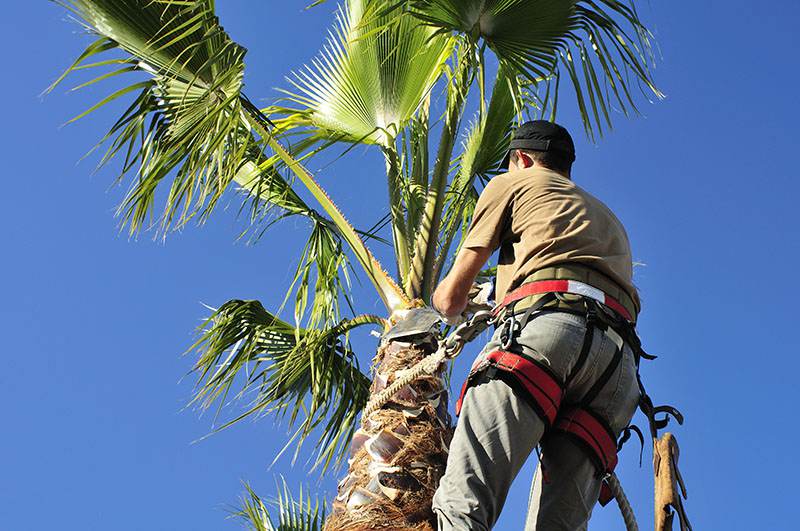 Palm trees are a distinguishing characteristic of landscaping in and around Las Vegas. Palms may be in a better condition for cleaning themselves naturally because of their height. In many cases, they will need trimming to avoid hazards.
Palms will eventually shed their old or dead fronds, but many people would rather not wait until they fall due to the risk of injury or damage. Professional help will be sought after, so, "What are the best ways to trim palms in Las Vegas?" Spikes or elevators?
When you need to Trim Las Vegas Palms
Palms are low-maintenance trees, which often grow better and healthier when not pruned regularly. Pruning palms isn't often required, but there are reasons to contemplate pruning your tree.
You will probably have to prune your palm before you can do this:
Remove dying, broken or dead fronds that are stuck, and won't fall naturally
To prevent any possible fire hazards
To improve overall visibility
Reduce safety hazards or damage to property in case of strong winds
The removal of fruits, seeds, and flowers
The pruning of a palm tree is best done using professional palm services using specialized equipment. They will also have a lot of experience in reaching the fronds safely. The fronds must be cut close to the trunk. This helps to prevent tree damage to the trunk leaf bases. In most cases, it is not possible to reach these leaves with a regular palm saw.
If trees are more than 15 feet tall, skilled Las Vegas palm pruners need to climb the tree, or have access using an aerial elevator. Anyone trying to climb palms without the right skills or equipment can cause serious injury.
Similarly, the use of aerial lifts without proper training in their operation can cause injuries, accidents, or property damage. Trained arborists may choose to use spikes as their primary climbing equipment to ascend to the top of the tree. In this way, they can easily reach and trim the leaves.
Unfortunately, climbing spikes can leave unsightly marks and cause permanent damage to the tree. If trees are sick or show signs of weakness, these methods are not recommended. Mechanical elevators offer an alternative for access to Las Vegas palms. They limit damage to the tree and are safer for the tree pruner.
Best Palm Trimming in Las Vegas
Choosing which method to use is best done through the help of your local tree service company. It is advisable to invest in professional palm tree trimming, such as the ones on offer by Las Vegas Tree Removal Pros. They deliver the safest and most effective means of caring for and trimming your Vegas palms. The teams are highly knowledgeable of all things to do with palm trees. Staff are all trained and know where potential pitfalls lay. Contact them to look at your palms, and you can quickly find the best ways to care for your trees.