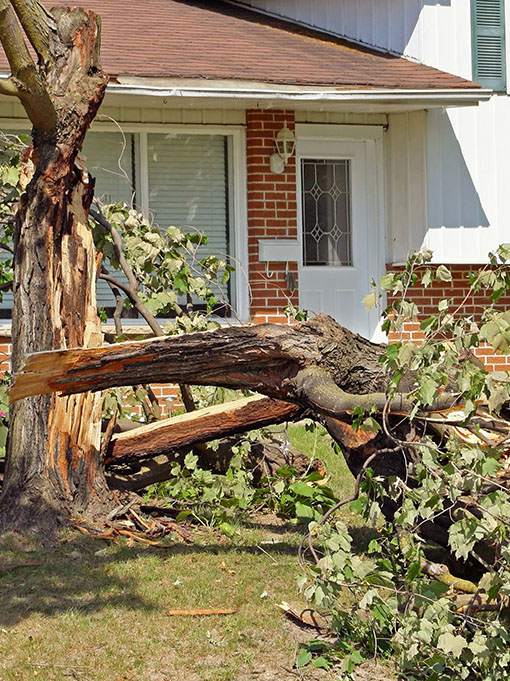 If a tree just fell on your house, what do you do now? One of the worst things a homeowner can encounter is an emergency of this degree.
A falling tree on your house is undoubtedly one of the worst. If this happens, or you are thinking, "What should I do if a tree falls on my La Vegas house?" read on to learn more about this scenario, and what you can do.
What are the First Steps if a Tree Crashes into Your Las Vegas Home?
If you happen to be unfortunate, the first thing you need to do is contact a local tree removal company. They have all the experience in dealing with this kind of thing and making sure there can be no more damage than has already happened.
The second thing is to be sure your family is at a safe distance away from the home in case the tree decides to fall more and cause more damage.
What are the Signs a Tree may Fall?
It can be an extreme situation to find a tree falling on your home, yet there are things to watch out for. Here are the two everyday things that you can watch out for before something drastic does happen.
Falling Branches – When branches begin falling on their own accord, this is one of the first signs the tree is dead, or at least part of it is dead. It will take local Las Vegas tree removal professionals to make sure all the dead parts are removed before they assess whether or not the rest of the tree can survive, or they need to remove it altogether.
Exposed Roots – If you spot roots that were once covered, this is a sign the tree is leaning. Strong winds or ground erosion are two of the culprits for this happening. While trees are strong, once they lean too far, it can lead to them falling if the earth becomes loose.
Who Do I Call in Las Vegas for Tree Problems?
If you see these signs, or you already experience a tree hitting your home. You need to keep calm but act quickly. Luckily, the best team of tree professionals are on standby around Las Vegas to deal with such events.Las Vegas Tree Removal Pros have been dealing with all manner of tree emergencies or keeping trees healthy, so they never reach this condition. It only takes one call, and the professional tree workers can be there to address the situation in the most efficient way possible.